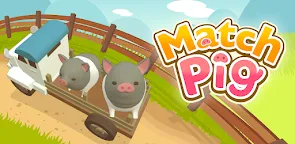 Match Pig
Developer: JOE,Inc
More from the same developer More

Pig Farm MIX | Traditional Chinese

Pig Puzzle DX

Pig Farm MIX | Japanese
Match Pig is a puzzle game developed by JOE,Inc.

Match a variety of pigs and ship them out!
"Match Pig" is a matching game in which you match various unique pigs in pairs and then ship them out.
You can collect different kinds of pigs while shipping them out one by one.
Download it for free and play it right now!
▼Simple Operation!
Just match the pigs and ship them out. It's easy and super fun!
As the stages progress, the difficulty of stage will slowly increase. You can get a sense of accomplishment while passing harder stages.
Move on to more difficult stage and challenge the limit of your memory!
▼Play it Anywhere, Anytime!
One stage takes about one to five minutes, so you can play a short game no matter when and where you are.
You can also pause in the middle of the game and continue when you have time!
▼Ship Cute Pigs & Collect them!
The pigs that are shipped will be registered in the Collection Book. Collecting them and completing the Collection Book is also interesting.
You can also view the full 3D models of pigs in the Collection Book from different angles.
Let's fill the Collection Book by shipping pigs!
▼Ranking Competing
There is also a Leaderboard that shows the ranking of max stage you reached and stars you earned.
Continued shipping pigs will increase earned stars of each match. Go for the top of the Leaderboard!
▼Enormous fun!
Collecting coins allows you to buy and change the skins of backgrounds and trucks.
With different backgrounds and trucks, maybe you will be able to pass harde stages in different atmosphere!?
Change your favorite style to make the game more fun!
Loading...