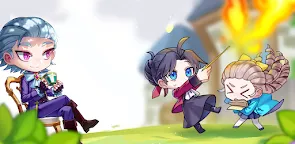 Merging poison by Salieri
Developer: Anbsoft
Merging poison by Salieri is a adventure game developed by Anbsoft.
★How to enjoy the game
Please merge poisons to create stronger poisons.
This is the most important point that makes Salieri strong.
Make Salieri's disciples stronger.
Collect and strengthen various pets through the adventure.
Also get a variety of equipment to become stronger.
★ The charm of this game
Just merging poisons can make Salieri stronger.
You can collect various pets you meet during your adventure.
You can play the game offline too.
★ Story
There is a great commotion in the small town where Salieri lives.
Even the cake Salieri ordered for his afternoon tea time is gone.
Salieri, who runs to solve this problem, starts a great adventure.
Loading...