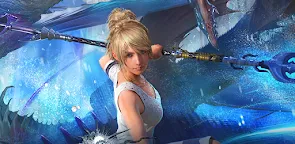 Final Fantasy XV: War for Eos
Developer: Machine Zone, Inc.
More from the same developer

Crystalborne: Heroes of Fate

Game of War – Fire Age
Final Fantasy XV: War for Eos is a strategy game that will take you on a long adventure.
You will have a chance to build your dream kingdom, collect magical resources by traveling to other realms and command your strong empire together with your friends. You will fight in a war with other cartels to defend your kingdom and your friends. But first, you should choose the right strategy to win the war, protect the Crystal and reign the Realm.
With FFXV: War for Eos, you will feel like a hero of a movie and will be able to create your own scenario and plan the desired execution. There are no rules in this game; all is done by magic.
Build a powerful Empire in the world of warfare with unified strategies and structures to win the wars.
The content and features are brand-new and updated periodically, so more bonuses can be granted during the game.
Main features:
● Start creating your empire with a preferred character (Noctis, Cindy, etc.).
● Travel to other realms, collect resources, fortify your kingdom, and build a strong army.
● Strategize epic wars to conquer the battles and take control over the Crystal.
● Create the ultimate Guild or join up with already-powerful forces
● Become a legend by taking control of the Crystal and ruling the Realm
It is your time to make history! Your journey starts now in FFXV: War for Eos!
Privacy Policy:
https://www.mz.com/privacy-policy-2/
Terms of Service:
https://www.mz.com/terms-of-use-2/
Loading...