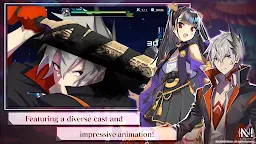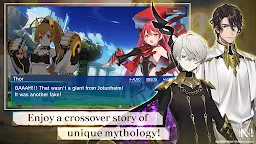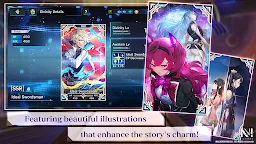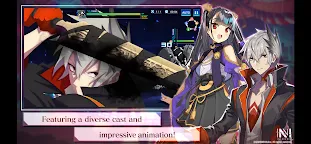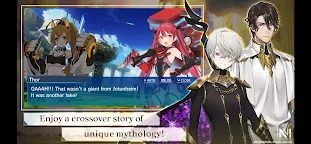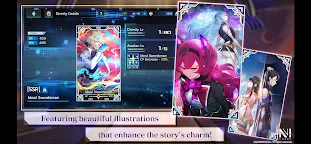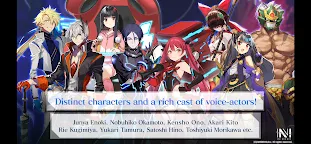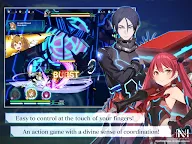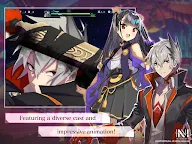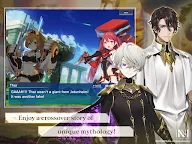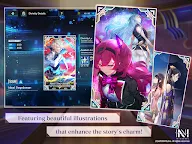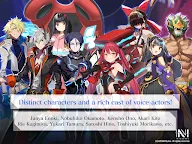 N-INNOCENCE- | English
N-INNOCENCE-
Developer: Asobimo, Inc.
More from the same developer More

N-INNOCENCE- | Japanese

Toram Online

Alchemia Story
☞ Other Version(s): Japanese
The tap-and-flick fighting action, a unique interpretation of the mythological crossover story, and the state-of-the-art artwork that enhances the story.
N-INNOCENCE is a new fighting action RPG with a nostalgic feel.
■"Combo" fighting battle action
Experience the unique battle action of a fighting RPG with a sense of profound feeling through simple tap and flick controls!
Swap up to 4 characters, including support, at any time to link combos and dominate the enemy!
If the enemy staggers from the accumulation of attacks, you will have a chance to deal massive damage!
Each character has a unique special move that combines a flashy animation.
Depending on the character, there are many variations, such as attack, defense, recovery, and support.
■Mythological "crossover" with a unique twist
The story is a crossover from various mythologies, including Norse, Japanese, and Greek mythology.
From Siegfried in Norse mythology to Prometheus in Greek mythology, the combinations of gods are endless.
Please come and see the newly developed original mythology with your own eyes.
■Beautifully decorated "state-of-the-art" designs
The "mythological world uniquely interpreted" art is a fully recreated in a state-of-the-art 3DCG!
Enjoy the stylish animation of the splendid characters along with battle backgrounds that show various aspects of the game!
■Story synopsis
You wake up in an unknown place.
The girl who calls herself "Nye" says. I will kill you...
The girl who calls herself "Nya" says. I will protect you...
A strange land, a strange girl, a strange language...
You intervene in a world where even your own identity seems to waver.
This was... the catalyst for a journey to a strange land.
■Characters that add to the story
・Nya (CV: MISUZU YAMADA) - A girl in white who waits for you in a strange world.
・Thor (CV: KUGIMIYA RIE) - Prince and the strongest warrior in Asgard, the nation of the gods. He descends to the human world in pursuit of his missing brother Loki.
・Freyja (CV: CHIAKI TAKAHASHI) - Captain of the Valkyrie corps. In the event of an emergency in Asgard, she would go to the front lines herself.
・Brunhild (CV: YUMI HARA) - A woman with amnesia who was saved by a certain young man. Her heart's desire for the past leads her to the circle of destiny.
・Susanoo (CV: OTSUKA TAKEO) - A young boy exiled from the holy high heavens at an early age.
・Amaterasu (CV: AOI YUKI) - One of two "Tenjuku" who rule over Takamagahara. When she is out of sight, the darkness of the night envelops the world.
・Zeus (CV: NANAKO MORI) - The young king of Gods who unite the twelve pillars of Olympus. He carries Adamas, a jet-black scythe that could even condemn a god.
・Hermes (CV: Fairouz Ai) - One of the twelve pillars of Olympus and a messenger. Her bird-like chirps reveal a surprising truth...
・Apollo (CV: MASAYA MATSUKAZE) - An embodiment of the sun, full of absolute power and confidence. When he is truly angry, the blessing of the sun will disappear.
There are plenty of other fascinating characters to choose from!
■Cast of splendid voice actors
MISUZU YAMADA KUGIMIYA RIE ONO KENSHO CHIAKI TAKAHASHI YUMI HARA Junya Enoki Nobuhiko Okamoto Shizuka Ishigami UEDA KANA Ito Miku Machico OTSUKA TAKEO Aoi Yuki Akari Kito Satoshi Hino KANON TAKAO Yasumoto, Hiroki KENICHI SUZUMURA Masaya Matsukaze Fairouz Ai Toshiyuki MORIKAWA Mori Nanako YUKARI TAMURA and others (Name titles omitted)
■App price
Full app: Free to play
*Some items are available for purchase
Please check the terms of use before playing.
■Recommended device Android 6.0 or higher
*Some devices are not supported
2421839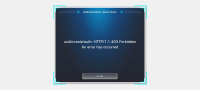 If you have an encountered with an error like this and playing outside of NA or Canada, you need VPN to play and have access this is the common error on JP server since the game is region block. Turn off both vpn and your game(forge stop it)... OpenVPN (Or any VPN for Canada and NA, also it might not work on all VPN app but try to reinstall until it let you bypass the error) again make it connected to NA or Canada 1st then open app. Second method is close both and restart your device open vpn and connected it to vpn 1st then open your game. Reroll here is easy personally I'll go for Fafnir since he's the only one that has self heal on the game, otherwise you can aim for Thor(She is the best for Chapter 2 boss since she has type advantage make it easier to clear it) or Apollo. If we follow the jp schedule first event would be Schwertleite she is a a burst dps too after that you can skip and save for limited units.
Loading...