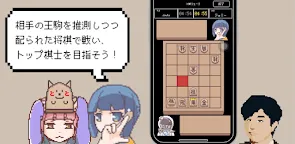 Gacha Shogi
Developer: B10.
Gacha Shogi is a shogi game developed by B10.

A shogi game played with 5 random pieces drawn by a gacha.
Also, in normal shogi, if the king is taken against you, you will lose, but in gacha shogi, you can choose the king piece that you will lose if you take it.
A new type of shogi game in which the strategy is infinitely expanded by arranging the drawn pieces and selecting the king pieces.
Loading...