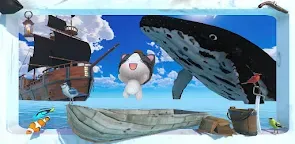 Cat Chi who escaped from the whale
從鯨魚逃脫的貓智
Developer: DHM Production
Neko-Chi Escape from the Whale is an escape game developed by DHM Production.

I was swallowed by a whale with the cat detective !?
There are incredible dolls and grandpas in the belly of the whale...
Solve all kinds of puzzles and mechanisms, and escape from the whale with cat detective!
Loading...