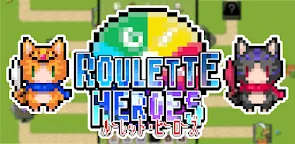 Roulette Heroes
Developer: quads
Roulette Heroes is a sugoroku RPG developed by quads.
A new standard of online party game, "Sugoroku Battle RPG" for up to 4 players at the same time!
You can play with friends in multiplayer battles, PvP Sugoroku, etc.
(Internet connection required to play)
There have been many reports of problems that cannot be reproduced on Android 12.
If you feel that the app is behaving strangely, it is possible that the downloaded files are corrupted. In that case, please close the application and try deleting the storage from the settings.
The app has a takeover function, so you can restore your play data from there.
▼Story
~As long as you keep fighting, this world will never end~
Please intervene and save the world in the application, which has been attacked by monsters and is on the verge of extinction, from our world.
▼The rules are simple
Just stop the roulette at the right time and get any number you want!
Players manipulate characters (*1) with various skills as frames, and aim to defeat a giant monster in the center while circling the board (*2).
You can win the battle faster if you stop the roulette aiming at the square that executes the skill of the monster's weak point!
(*1...Buddy) (*2...Battlefield)

▼Communicate with unique characters
Raise your summoned characters!
You can summon unique characters into the world in the application and enjoy communication with them through chatting, etc.
The more food you give the characters, the more they like you.
As you get to know each other better, the experience you gain in battles will increase, so feed your favorite characters more food to make it easier for them to raise their level.
The content of skills and the speed of roulette rotation change depending on the character, so please choose the one who goes buddy to battle according to the monster and the Battlefield.
▼Collect materials to make items!
Get materials by hunting!
By combining the materials you obtain, you can create various items for use in battle, food for your characters, and more.
Use the items to your advantage in battle.
▼Fight together with other players to defeat powerful enemies!
Up to 4 players can play multiplayer!
You may be able to defeat a strong enemy that you cannot defeat alone, if you join forces with others.
Earn points in multiplayer to get limited time items.
▼Social Distance Sugoroku!
Speed Match!
Enjoy Sugoroku with new rules with your friends online!
A real-time speed game of Sugoroku has already been implemented.
▼Unlimited retries of Roulette!
You can change the result of Roulette you don't like!
Offline, you can retry roulette as many times as you want by watching video ads.
Online, in consideration of other players waiting your turn, and the limited number of people who can be online at the same time, you can retry by paying Gems (in-app currency).
[Required Environment]
Android 8.0 over
*Even on devices that meet the required environment, the game may not run properly due to device performance and specifications, device-specific app usage, and other factors.
[Official Twitter]
https://twitter.com/roulette_heroes
[Price]
App itself: Free of charge
Some items are available for a fee.
[Dot painted images of monsters, etc.]
-ヌー :
http://damagedgold.wp.xdomain.jp/
[Tsukuyomi-chan]
-Illustration : えみゃコーラ
-Original story and design: Rei Yumemae
-Tsukuyomi-chan official website:
https://tyc.rei-yumesaki.net/
▼Recommended for people who
- People who like board games.
- Want to stop the roulette game when you want to.
- Want to play unique indie games.
- Want to support low-budget indies.
Loading...