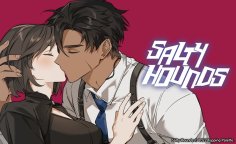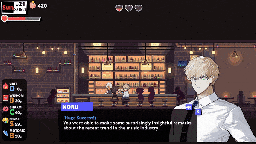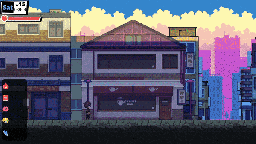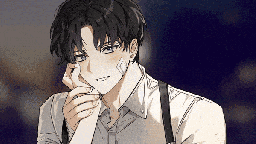 Salty Hounds
Salty Hounds
Developer: Topping Palette
Salty Hounds is a dating simulation / RPG developed by Topping Palette.
It focuses on gaining trust and building relationships with a cast of handsome bodyguards (and others) as the new manager of a security agency, while affording you as much depth and freedom as possible in paving your own story full of romance!
IMMERSIVE OPEN WORLD
Explore An Open-World Metropolis!
Enjoy a dynamic daily life in a living and breathing modern open-world city, drawn in beautiful pixel art of the highest quality. This city has got plenty of places to explore and multiple opportunities, including mini-games, to enjoy.
LIVING AND BREATHING LOVE INTERESTS
Your Handsome Love Interests ❤️
Meet a cast of unique love interests acting in their own interest and roaming around the city on their own schedules. Your interaction with them will change depending on many different factors, such as their current condition and the level of affection towards you, and more.
Items can be used and gifted to the love interests
The five love interests have all got different tastes and preferences, showing diverse reactions when gifted with an item. Finding and trading stuff for the best gift items can really help with your romantic pursuits!
TRUE DATING SIMULATION
The dating is the cherry on top of the romance in <Salty Hounds>. Find out what your partner likes, plan your day ahead and execute a perfect date in a dynamic game that tests your social skills. High-Intensity romance awaits you at the end of every perfect date, so do your best - and have fun doing it!
You: "We've got a locker room for a reason, you know?"
Also, if you keep dating more than one partner, sometimes you might find yourself in a slightly awkward situation, but we won't discourage you from pursuing your love in multiple places. 😁
smug
Having a headache?
NON-LINEAR EVENTS AND STORY
Our primary goal is delivering a long-term romantic adventure that shows the characters fall in love gradually. You will be able to live a virtual life with a main focus on romance, interacting with a cast of characters with a huge amount of diverse dialogues that are designed react to your actions.
As you grow closer to a love interest, more and more options will available in interacting with him, allowing you to ask him out on a date and even visit him at home and spend time together.
Take your date to the shooting range!
And as your relationship deepens, the hidden stories behind the men of Salty Hounds will slowly unfold themselves... forcing you to make choices that lead to one of the many grand endings our story has got to offer.
Official site:
Twitter:
Loading...