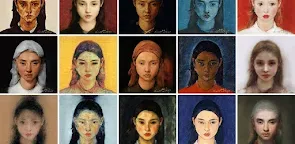 AIGahaku
Developer: AI Gahaku
AIGahaku
is a free photo editor cam app that transform your selfies into a Renaissance portrait paintings.
Using AIGahaku's art filters you can make your photo look as if Warhol pop art, Modigliani oil painting, Picasso, or even Rembrandt himself painted it for you! And with no picture editing or Photoshop skills needed, it's easy to share your world.
- 50+ OF STYLES: You'll find more than 300 art styles in AIGahaku art filter library. AIGahaku has the largest collection of different artistic styles to choose from.
Find your favorite one!
- Automatically retouches. Improves skin and brings out an atmospheric, natural portrait look.
- Get instant results. It's very fast and easy to use.
- BUILT FOR SOCIAL: Easily capture and share fun, high-quality photos to your favorite social network.
Note for People of Color:
We are so sorry that our AI has been trained mostly on portraits of people of European ethnicity. We're planning to fix this soon.
AI Gahaku app works like a fully automated pro AI Portrait photo editor. It's also great for avatar generation. You can also check PortraitAI app and AI Gahaku Art website from Tokyo.
AIGahaku photo editor is brought to you by AIGahaku(ai-art.tokyo).
You must agree to AIGahaku privacy policy:
https://ai-art.tokyo/privacy/en.html
Loading...