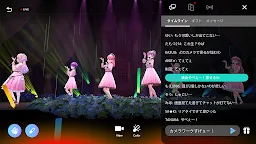 Link! Like! Love Live!
Developer: オッドナンバー
Link! Like! Love Live! is the collective name of 6 virtual school idols from Hasunosora Girls' High School.
This is the second idol group in the franchise to have an unofficial unnamed group following Nijigaku. The project will mainly consist of an app for smartphones, video streaming by the members and cast, magazine coverages, music CD releases, and live events. In the video, the six main girls are shown for the first time in the back.

In addition, the project is now soliciting a name for the title of the smartphone app. The name chosen from among the submitted ideas will be the title of the app, and the applicant's nickname will be listed in the game's credits. The name should be within 20 characters including "Love Live!" (OOOO Love Live! or Love Live! OOOO), and the application period is from October 16 to November 1.

2392021
Love Live recently announced there new upcoming game! The game is called Link! Like! Love Live!
The game is very similar to Idoly Pride. Very different style compared to LLSIF and All Stars. New gameplay is looking interesting! Here some photos
Loading...