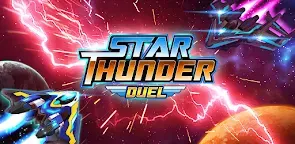 Star Thunder: Duel
Developer: Uwan Co., Ltd.
Star Thunder: Duel is an action bulletstorm game developed by Uwan Co., Ltd. In this game, players can enjoy the beautiful graphic, heavy metal soundtracks and the first of its kind PVP shoot'em up gameplay! Are you still playing single player games? Star Thunder features endless PVP challenges against other players whenever you want to play. You'll never be satisfied with single player games after trying this game out!

Become the ACE fly your super fighter and fight with your wingmen against your opponent's space fleet. Create your own fleet by collecting battleships and motherships. Build a strong fleet and become the savior of the galaxy!

Features:
1. Collect a total of 9 super fighters. Each super fighter has unique weapon and super attack!

2. Collect wingmen to assist you in combats with their unique powers. Use them well to defeat your enemies!

3. Choose from a total of 27 battleships to build an invincible fleet!

4. Choose from a total of 9 powerful motherships to hold the last line of defense!

5. Fight in multiple beautiful environments!

6. Enjoy great matchmaking and replay system

Download Star Thunder: Duel now and enjoy the brand new shoot'em up experience!
Loading...