BLUE LOCK Project: World Champion
BLUE LOCK Project: World Champion
Developer: RUDEL
RUDEL has announced their new soccer simulation game, "BLUE LOCK Project: World Champion", based on the TV soccer anime "Blue Lock".
Players can enjoy their amazing storyline while raising the striker, form the strongest team, engage in fierce battles with rivals!
Players cab also relive the original story of the anime and fully enjoy the worldview of Blue Lock.

【About BLUE LOCK】

The manga is written by Muneyuki Kaneshiro and illustrated by Yusuke Nomura, serialized in Kodansha's Weekly Shōnen Magazine since August 2018.
Anime television series adaptation is set to premiere in October 2022.

The story is about Japan was defeated again in the 16th FIFA World Cup.

To breakthrough the situation, the Soccer Union recruited 300 high school students to be trained as Forward, and they accommodate in a dorm called 'BLUE LOCK", to form the world-class egotist strikers.
Yoichi Isagi, an unknown high school soccer player who is conflicted about his playing style, decides to join the program in order to become the best player in the world.

______
Official site:
Official Twitter:
Developer's official site:
2364957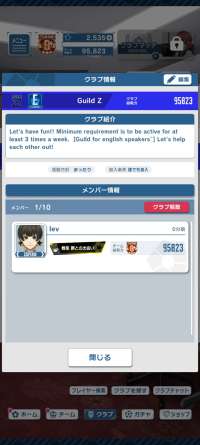 hello fellow players!~
with the new update out came a new feature: guild!
and since most of the players are japanese I decided to make an english guild for us english speakers!
y'all are free to join if you'd like~ it seems that the max members is 10 tho-
[📍If you have a better name for the guild don't be afraid to ask! I'd gladly change it since I just named it whatever hehe..]

anywayss,, heres the guild! I'm not sure yet if it's the name you need to know for you to find it.. so do tell me if y'all now- for now I'll leave this here~
Loading...