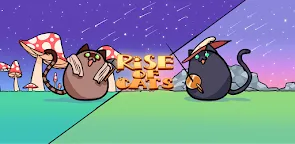 Rise of Cats
Developer: Catecoin
Rise of Cats is a casual game developed by Catecoin.

Collect over 40 kinds of cute cats, use their special skills to fight off your opponents or co-op with friends to defeat enemies! Rise of Cats is a cat themed fast paced Random Tower Defense Game, each game only takes 3 minutes! Enjoy the fun and aggressive cat arena!
Collect cats — Over 40 kinds of different cats, cute or cool, with special skills set and rarity, waiting for you to get them all! Raise and battle your favorite cats!
Fast paced battles — A fun random tower defense game where it only takes 3 minutes per game! Guard the cheese with your cats and who ever lasts the longest wins. Also there are different types of bosses waiting for you to challenge!
CO-OP mode — want to play a game with your friends? Co-op mode allows up to 2 players to create/join a game or join random games to team up and fight against enemies together! Just start playing and instantly wins reward!
Generous rewards — Grab and play to win plenty rewards; also there are all types of exciting events and time limited activities, come and collect your favorite kitties!
Loading...