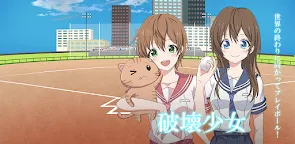 Destruction Girl
Destruction Girl
Developer: Kizuna Project
More from the same developer

Spot the Difference: I love you

Spot the Difference: I love you
Destruction Girl is a Sports game developed by Kizuna Project.

This game is available in Japanese only.
[Game Introduction / What is Destruction Girl]
・ Play baseball with beautiful girls in various places!
・The operation is simple, just throw the ball and swing the bat!
・ Dress them up in captivating costumes!
・ Compete for scores in the ranking!
・In addition to baseball, you can also protect world peace!
[For those who have the following ideas]
・Those who want to play games without thinking
・Those who crave for exhilaration and comfort
・Those who want to relieve stress
・Those who are not good at playing long hours
・Those who want to destruct something as much as they want

・Those who want to save this world

【Story】
Two baseball-loving girls, Yumi and Manami, are playing baseball as usual when they discover they have a "hidden power".
While an organization trying to use that power is eyeing the two, a terrifying Great Demon King suddenly appears in the sky.
*Maoudamashii's music is used as part of the BGM.
https://maou.audio/category/song/
Loading...