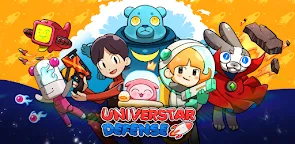 Universal Star Defense
Developer: Bigshot Games
Universal Star Defense is a strategy game developed by Bigshot Games.

A new concept random skill defense game that tests your luck and skills!
[Universar Defense Game Introduction]
A game in which elite heroes of three races, robots, aliens, and humans, travel through space aboard the Universe Star to help the planets occupied by monsters.
-Random skill system
When skills are adjacent to each other, you can use a much more powerful skill.
The more adjacent the same skill, the stronger it becomes, and up to 5 adjacent skills are possible.
Whether you gather skills to prepare for a powerful blow, or keep your enemies in check, everything is your choice depending on the situation.
- Heroes of 3 distinct races
All heroes have their own unique skills.
Create your own way of playing by combining them in a variety of ways.
- Real-time co-op
Join forces with other users to defeat powerful bosses that are difficult to deal with alone.
If you defeat the boss, you can get a lot of resources and draw tickets.
Loading...