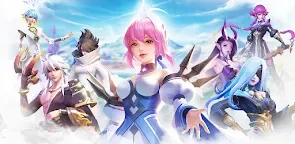 Heroes of Crown | English
Heroes of Crown
Developer: Woobest Game
☞ Other Version(s): SEA | Japanese | Japanese | Traditional Chinese
Heroes of Crown is an action and adventure game developed by VNG Game Publishing.
Set in a fresh new world full of unique heroes waiting for you to pick them and watch them win one victory after another.

GAME FEATURES
[MULTI-BATTLE mode ON]
Deploy your heroes in multiple battles and watch them power level up faster than other idle games. Have fun with NO-SWEAT easy LEVEL-UP!
[ASSEMBLE epic HEROES]
Collect, Upgrade, and Unleash the best team from a list of 100 plus unique heroes. Have fun getting to know the interesting stories of these COOL HEROES and let them blow you away with their HOT MOVES. Watch them come to life with IMPRESSIVE 3D VISUALS!
[AMAZING fast ADVENTURES]
Get your action-adventure adrenaline rush with the x24 speed-up feature. Enjoy the wide variety of PvP features like 1v1, 3v3, Cross-server, and more. Come on and FLEX your STRATEGY!
Summon your hero now and discover a fresh new idle adventure. Watch out for new exciting content!
Loading...