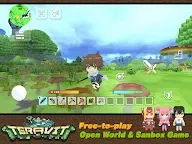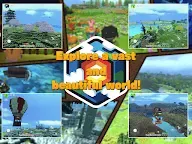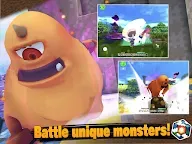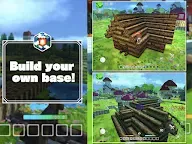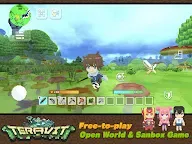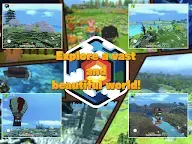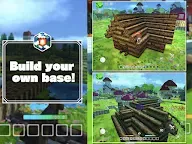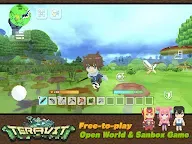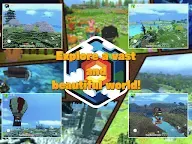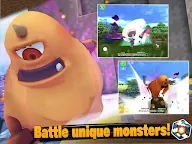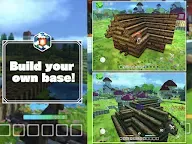 TERAVIT
Developer: CyberStep, Inc.
TERAVIT is an adventure game developed by CyberStep, Inc..

[Game Features]
"Find your own treasure!"
TERAVIT is an open world made up of various kinds of blocks.
Freely build structures by destroying, stacking, and arranging blocks.
In addition to buildings, create fields to plant crops and farms to raise animals too.
In multiplayer, enjoy the world of Voxel to the fullest with friends!
[Gameplay]
◆ Explore a vast and beautiful world!
The world of TERAVIT is made up of various biomes, including flowering grasslands, poisonous swamps with mysterious trees, and mysterious floating islands in the sky.
◆ Battle unique monsters!
Each monster has a unique appearance and their own special attacks.
Craft special weapons and equipment to use in battle and have the upper hand against monsters.
◆ Gather materials for crafting!
Materials collected during adventures can be used to craft weapons, equipment, and other items that can be used during battle, as well as furniture to decorate your base.
Some special workbenches can also be used to create vehicles that make getting around easier, such as large ships, airships, or even submarines.
◆ Build your own base!
The world of TERAVIT not only has various kinds of blocks, but also furniture for interior decorating.
Build a house with the blocks collected while exploring and collect furniture to build a base.
In addition to buildings, also create fields to grow vegetables and plants, and farms to raise animals and pets.
◆ Multiplayer for more TERAVIT fun!
Enjoy playing with friends and other players.
In Multiplayer, battle monsters, explore the map, and build huge structures together for more diverse play!
[Game Modes]
◆Story Mode
"TERAVIT is a world of blocks protected by the Megami of Creation, Tera. One day, however, an evil demon king sealed away the Megami's power.
Become a hero and free the Megami of Creation, Tera!
◆Build Mode
Play freely! Enjoy building without having to worry about materials or restrictions.
Build your own private house, a huge castle, or even a road that connects village to village.
Build beyond imagination!
◆PvP Mode
Compete with other players for survival in PvP mode!
Build up defenses, destroy terrain, and gain an advantage over the other players in battle!
[Recommended for those who]
・Want to enjoy role-playing games for free!
・Like open world role-playing games!
・Want to explore a sandbox world made of voxels!
・Want to use the collected items to craft weapons and useful tools!
・Want to build a custom home!
・Want to plant and harvest crops, raise animals, and build a farm!
・Enjoy playing multiplayer with friends!
・Want to craft with pixelated blocks!
[FAQ]
Q. Is TERAVIT free to play?
A. Yes. The game is free to play.
Q. Can I only play on a mobile device?
A. No. TERAVIT can be played on a variety of platforms, including PC, PlayStation 4, and Nintendo Switch.
[Operation Environment]
Android 7.0 or higher
RAM 6GB or more
* Even if the above conditions are met, the game may not operate normally dependent on the performance of the device and the strength of the connection.
[Notes]
* Please be sure to check the official website for supported devices.
* Wi-Fi is recommended for downloading and updating the client.
*Please verify storage capacity before installation.
[Official Information]
・[TERAVIT] Official Webpage
https://teravit.app/
・[TERAVIT] Official Twitter
https://twitter.com/teravit_en
Loading...