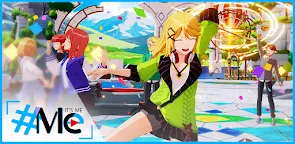 #Me: 3D Avatar, Meet & Play
Developer: CloverGames
#Me: 3D Avatar, Meet & Play is a simulation game developed by CloverGames.

Coming to you on July 7th, 2022
Could you define yourself with just one word? Maybe not. One can have many colors, and Estrella is a place where you can show them all. A breathtaking adventure awaits you!
#Unique experiences in a new virtual world
• You can be anything you imagine. Have you ever wanted to be a creator, model, or even a knight? You can experience all of these here in #Me!
• Allow yourself to experiment with any hair color or fashion style that you have always wanted to try! Walk with confidence on the runway and show everyone what you've got as a model!
#Go on an adventure like no other
• Experience Astell through a unique story involving you
• When you are feeling the groove, express it with different dance moves and expressions!
• Issues present in reality are here in #Me too?! Help the residents solve their problems!
• Help out with residents' requests, and have fun playing games. You might be able to discover a hidden talent which you never knew existed!
#Make new friends
• What are your interests? Personalize your profile and meet new friends with the same passion here in #Me.
• Interact with Astell's residents, share daily photos and hang out with your friends. Expand your social network in our universe!
#Be an influencer
• Various contests are held in #Me every weekend. Win a contest and enjoy benefits that no one else can get!
• Are you great at taking photos? Or have you received compliments for your great fashion style? Unleash your skills here!
• Gain popularity through different activities and have all eyes on you—you might become popular without you even knowing!
Be who you always wanted to be in #Me.
Ready for an adventure of a lifetime? Your adventure starts today!
━━━━━━━━
Official Homepage
https://www.hashtagme.app/
Youtube :
https://www.youtube.com/channel/UCidq9siO-SHpdG4gO_VFjow/
Instagram:
https://www.instagram.com/hashtag.me.official/
FB:
https://www.facebook.com/Hashtag-Me-105640631938907/
Blog :
https://blog-en.hashtagme.app/
━━━━━━━━
▶ App Permissions
This app requests the following permissions in order to provide certain services.
▶ Optional Permissions
Picture/Media/File Saving: Needed to save game execution files and videos, and to upload pictures and videos.
Phone: Needed to access your phone number to send promotional text messages.
Note: Granting these optional permissions is not required to play the game.
▶ Revoking Permissions
1. Android OS 6.0 or higher: Go to Settings > Apps > Select an app > Permissions > Select which permissions to allow or deny
2. Lower than Android OS 6.0: Upgrade the operating system to revoke permissions, or delete the game.
Note: The game may not offer the ability to allow/deny individual permissions.
━━━━━━━━
By downloading this game, you are agreeing to our Terms & Conditions of Service and Privacy Policy.
Also, under our Terms of Service and Privacy Policy, you must be at least 13 years of age to play.
Terms & Conditions of Service: https://cdn.clovergames.io/page/en/tos.html
Privacy Policy: https://cdn.clovergames.io/page/en/privacypolicy.html
Loading...