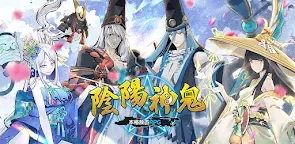 Onmyojinki
Onmyojinki
Developer: 6waves
Onmyojinki is an idle RPG developed by 6waves. In this game, players need to train and develop the power of their characters by care-free idle gameplay to fight against powerful youkai. Also, upgrades on equipment are another way to strengthen the characters greatly.

[End the battle between people and youkai! ]
The player becomes an onmyoji who draws the blood of people and youkai, and fights against the youkai using onmyodo techniques and shikigami.
You can continue to collect resources manually or fully automatically.
Let's challenge the boss battle when all the strength is ready.
[Become a winner in the world of people and youkai! ]
Choose between Yin and Yang! ?? Onmyodo as you wish,
Gather the Heian Shikigami and defeat the powerful bosses!
[Let's interact with the unique characters of humans and youkai! ]
This is set in the Heian world, where people and youkai have been fighting for a long time.
The hero who draws the blood of humans and youkai confronts the battle between humans and youkai with his brother, Seimei Abe.
Familiar youkai from the old Japanese legend "Hyakki Yagyo" are also appearing one after another!
[Abandoned battle like hack and slash like never before! ]
Dive into various stages where youkai roam, collect resources easily, and increase reinforcement materials!
You can brew sake with the collected items, raise your boundaries and attributes, and greatly increase your strength.
Besides fighting, you can practice in zazen and gain experience points to reach a new boundary as an onmyoji!
Let's improve the strategy by adding various beasts, youkai, and mysterious gods as shikigami as well as the work of Onmyoji!
【I recommend this hotel! ]
・ I want to play with one hand in my spare time without stress. ・ I want to play an active part in the Heian period where youkai walk. ・ I want to train Onmyoji from scratch.
[Yin Yang God Demon-Full-scale neglected RPG-Official Twitter is here] https://twitter.com/onshin_6w
Recommended environment
Android: 8.0 and above
Loading...