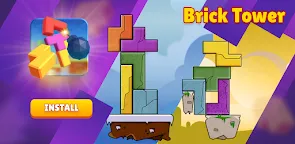 Brick Tower
Brick Tower
Developer: Kalyna Games
Brick Tower is a casual game developed by Kalyna Games.

Are you looking for some new thrills? Then this amazing game is made just for you. It is hard not to feel happy playing Brick Tower.
It is a fun and colorful physics builder. Your goal is simple - be clever enough and build the highest tower.
Improve your building skill, avoid traps, be smart and fast. Do what it takes to become a Tower Master who builds marvelous towers.
Defy gravity with intuitive one-touch controls and enjoy endless physics tower building.
They're cunning traps and obstacles on your way that will try to mess up your creations, but that won't stop you! Brick Tower is calling for you, Master, hurry up and test your strength and skill.
We would like to hear from you about how we can improve our games and products. Feel free to contact us with any suggestions or comments:
Email: elena@kalyna.games
Loading...