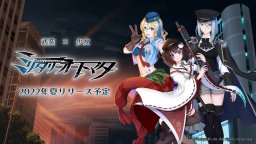 Military Automata
Developer: Runpath.Inc
More from the same developer

Fairy Island

Some Hero's Adventure
Military Automata is simulation game developed by Runpath.Inc.
In this game, players will lead Military Automata to fight fiercely with the enemy force "Niapo" .

An unidentified alien creature flying from space "Niapo" and the humanoid mechanical weapon "Military Automata" fight in a world which is similar to modern Japan.
Each humanoid mechanical weapon has its own unique skills that can give you an edge against the "Niapo".
Loading...