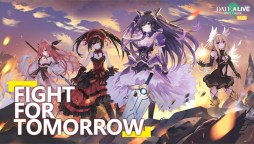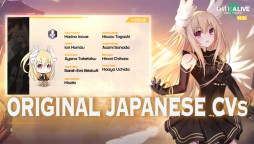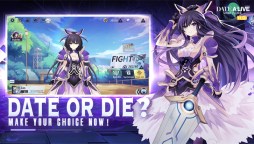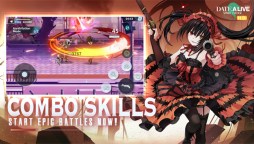 Date A Live: Spirit Pledge HD
Developer: MOONWALK INTERACTIVE HONG KONG LIMITED
[This game is no longer in operation.]
☞ Other Version(s): Japanese | Simplified Chinese
Date A Live Spirit Pledge (HD) is the remastered version of Date A Live: Spirit Pledge - Global, an innovative action/dating sim game based on the popular light novel series Date A Live and officially licensed by [Kadokawa]. It offers a fresh take on romantic visual novel formula by fusing various simulation elements to enhance the immersion of this mobile DAL world. In this game, you can control or interact with various Spirits in battle and story stages, and form strong bond and connection with them.
[Heart Pounding Romance]
Experience authentic dating sim gameplay in the story stages. Win the hearts of Spirits to unlock more costumes, dating locations, chapters, and access their sweet talk to the special one. Work can improve your attractiveness and cook all sort of food to help your relation with your beloved Spirits!
[Create Your Perfect Lovers]
You can unlock and level up Angels, which are the weapons used by Spirits in DAL. Pick and choose what stats to boost and what Angel to choose from the enormous skill tree that unlocks gradually as you level up. There are hundreds of combos, giving you the option to customize your Spirits.
[Battle is also a Date]
Exquisite illustrations + realistic Chibi battle graphics. Each Spirit's special skill has exclusive graphics and 4 kinds of special effects. Enjoy a magnificent feast for your eyes!
[100% Voice Actors from the Anime Series]
Tohka Yatogami (VA: Marina Inoue)
Origami Tobiichi (VA: Misuzu Togashi)
Kotori Itsuka (VA: Ayana Taketatsu)
Yoshino (VA: Iori Nomizu)
Kurumi Tokisaki (VA: Asami Sanada)
Kaguya Yamai (VA: Maaya Uchida)
Yuzuru Yamai (VA: Sarah Emi Bridcutt)
Miku Izayoi (VA: Minori Chihara)
Mayuri (VA: Sora Amamiya)
1865324

#鼠尾蛆Giveaway
I pre-registered for this game but ended up not wating to play it in the end, so you can use my gift code :3
(Please comment if you used it to avoid any confusion)
1827021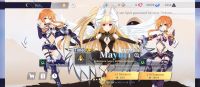 Finally pulled Mayuri on 60th pull been trying 2 get her every since the original game released. So I need some clarification on the gotcha system? they change so much stuff on this game. The gotcha system seem similar to genshin impact I pulled Kotori on 30th pull, who is a 5 star like Mayuri (there no more s or ss, or sss rank spirits just 4* or 5star spirits) so that ment that the next 5 star is ganrunteed banner spirit. If so that ment I actully lost my 50/50 when i pulled kotori and had a ganrunteed for mayuri, Also are you ganrunteed 5star spirit on the 70th pull? or is it within 70 pulls? Does anyone know if the banner ganrunteed 5 star carries over to the next banner like genshin does? I pulled Mayuri on 60th pulled does that mean that i will pull a 5 star spirit on my next 10 pull since that would put me at 70? not sure if the banners reset if u pull a 5 star spirit b4 70 pulls. If anyone can answer some of these questions that would be great :)

Loading...