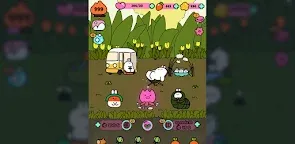 bonfire idle
bonfire idle
Developer: marimarustudio
bonfire idle is a casual healing game developed by marimarustudio. In this game, players need to take care of a bonfire and let it grows bigger and lighter by merging different items. This cute game will heal any string souls with how adorable it is.

"bonfire idle" is a cute game that anyone can easily enjoy.
●Grass grows over time. Touch the Grass in succession.
●It grows by merging three identical items.
●The double speed button in the center right of the screen allows you to enjoy the game at a faster speed.
●Please release the hanging lock.
●Bonfire characters can be acquired one by one by leveling up the Bonfire.
●Bonfire characters and bunny characters can be collected or placed.
●You can collect or place backgrounds such as rainy days, snowy days, nights with stars and the moon, etc.
●One heart is consumed per merging of items.
Loading...