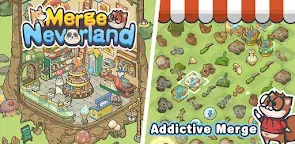 Merge Neverland
Merge Neverland
Developer: tima studio
Merge Neverland is a casual puzzle game developed by tima studio. In this game, players need to merge different items to synthesize man other things. Players can find many cute decorative items and the simulation gameplay allows you to design your own unique neverland.

This series of stories will take place in the Treehouse Store, Conch Restaurant, Outdoor Garden, Cave Bar, Cliff Hotel, Pier Market.
Here is Neverland! Now embark on a journey with the traveler - Squirrel Chestnut to explore this vast unknown island.
It all looks like a mess at first. But that's ok! Whisk off the dust, find new items, then merge them into useful tools.
You never know how many surprises you'll get next!
Welcome to Merge Neverland! You'll be absolutely amazed here. Wow, it turns out that we can play a merge game like this!
To improve the players' game experience, we innovatively combined MERGE gameplay and SIM gameplay into one interface.
Follow the task prompts and use superb merge skills to help the local animals repair furniture, renovate buildings and get the whole island up and running.
Features:
EXPLORE - During this trip, you will experience SIX or MORE different beautiful scenes, there's always something new to discover.
MERGE - Think of something clever: what can you do with the wrenches scattered everywhere and several broken cars? Maybe that shiny neon sign will give you the answer!
DECORATION - From a tumbledown hut full of cobwebs to a clean and lovely store. Well done! Everyone can be a house design expert!
MANAGEMENT - Ah, yes. The show is just beginning! Now it's time to use your business acumen, recruit store clerks, fulfill the orders from all over the forest, and maybe you can win some mysterious rewards.
Relax - It may be a bit hard at first, but watching ads will help you get over it easily. We believe that happiness will be the only theme in the game.
Easy to play - You can play with your friends, parents, colleagues, and even your kids. We hope this game can become part of your social life.
We would never want to use this game to kidnap you. You can either open the game and play for a few minutes and simply merge some items, or find a suitable time for a merge marathon.
If you like merging, we will continue to design more interesting and lovely scenes. Merge never ends!
There are so many interesting stories about Merge Neverland that we can't wait to tell you! If you have any questions, please contact us at:
Official Customer Service Email:
CS_MN@timafuns.com
Facebook Fan Page:
https://www.facebook.com/MergeNeverland
Glad at your service!
Loading...