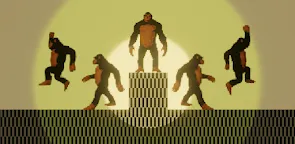 Escape Game GorillaRPG
Escape Game GorillaRPG
Developer: MR.T
More from the same developer

Escape Game Spaceship

Escape Game Spaceship

Escape From Prison

Escape From Prison
Escape Game GorillaRPG is a room escape RPG developed by MR.T. In this game, players need to control the protagonist, a gorilla, to escape from the room. Players need to explore the map to search for useful items and hints that can help solve different puzzles and find the way out.

This is an RPG-style escape game that aims to escape by operating a gorilla.
【feature】
・ Difficulty is easy
・ Since hints are prepared according to the progress, you can proceed smoothly!
-Item possession status, in-game gimmicks, etc. are automatically saved!
[How to play]
・ Tap to check
・ Tap the arrow to change the viewpoint
・ Tap the item icon twice to enlarge it
・ With the item selected, there may be a place where you can use it by tapping somewhere to check it.
・ You can see hints from the MENU button on the upper left of the screen.
【BGM・SE】
ポケットサウンド https://pocket-se.info/
フリーBGM DOVA-SYNDROME https://dova-s.jp/
魔王魂 https://maou.audio/
Loading...