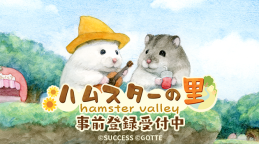 Hamster Valley
Developer: SUCCESS
Hamster Valley is a casual simulation game developed by Success. In this game, players can enjoy an adorable idle-simulation game with cute hamsters illustrated by GOTTE, who gains popularity by creating content based on his cute hamster "Sukeroku". The game is available on both iOS and Android and supports Japanese only for the moment.
In this game, players need to develop the beautiful Hamster Valley with different hamster friends. "Hamster Coin" and "Friendship Point" are the two primary resources the player should gather to increase the number of hamsters and facilities. Also, during the "Room Walk" session, hamsters will collect treats around the valley. There are even craftsmen in the valley to create new decorations, which will make the valley more pretty than it already is.
Because of this game's idle gameplay, players do not need to open the game to earn resources, as the hamster friends will keep helping the player automatically when offline. Of course, when the player logs on to the game, the player can enjoy the chill atmosphere of the valley and the cute movement of the hamsters. There are also different quests and challenges available to the player. Let's see what you can achieve in the Hamster Valley with all your cute, fluffy friends!
Loading...