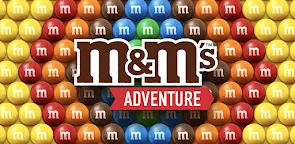 M&M'S Adventure
M&M'S Adventure
Developer: Tilting Point
M&M'S Adventure is a puzzle game developed by Tilting Point.

Pre-register now for the first and only M&M'S mobile game, featuring your favorite M&M'S characters and get a pre-registration gift from M&M'S Adventure. Enjoy this casual puzzle matching game and unlock rewards and characters! The colorful and fun world of M&M'S Adventure awaits!
COMPLETE FUN AND CHALLENGING CASUAL PUZZLES
Blast M&M'S to complete challenging puzzles. There are over 1000 levels, so you will always have more puzzles to try and match! Participate in live events and try new puzzles and activities.
ADVENTURE WITH YOUR TEAM
As you advance through the game, you will explore the fun and exciting world of M&M'S Adventure. Collect your characters and adventure with your team through a colorful and exciting game world.
COLLECT YOUR FAVORITE M&M'S CHARACTERS
All your favorite M&M'S characters are here – Red, Yellow, Blue, Orange, Green and Brown! Collect these and many more characters and unlock awesome accesories that really make them come to life! You'll laugh alongside the characters you know and love!
SEASONAL EVENTS EVERY MONTH
Every month more puzzle levels, game modes and rewards are added in seasonal events. Play unique levels and collect special accesories for your favorite M&M'S characters. These events will have you coming back again and again.
TRAVEL AROUND THE WORLD WITH M&M'S
Travel around the world with your favorite M&M'S characters across the different levels of this challenging puzzle game. Blast and pop M&M'S in different scenarios and locations. Are you ready to travel with us?
RECEIVE PRE-REGISTRATION GIFT
You will receive an in-game gift after the game's release if you have pre-registered for it on the Google Play M&M'S adventure store page. Enjoy in-game collectibles and all your favorite M&M'S characters. What are you waiting for? M&M'S Adventure today – play and have endless fun!
Loading...