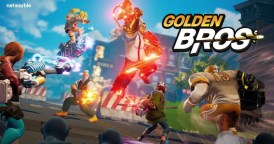 Golden Bros
Developer: Netmarble F&C
Golden Bros is a casual 3v3 shooting game developed by Netmarble F&C.
Golden Bros will feature NFT elements in real-time 3v3 combat between squads. Players can choose from a number of maps to play where they can come up with strategies to win battles.
The game trailer flaunts eye-catching graphics and a simple layout configuration for a 3v3 combat shooting game. Golden Bros is entering the market for both PC and smartphones by the end of the first quarter of this year.
Official site: https://goldenbros.netmarble.com/
GOLDEN BROS is a 3v3 real-time PVP Battle Royale, with fast and easy gameplay. Built on Unreal engine with over 2 years of development, GOLDEN BROS boasts AAA graphics and a unique play style that makes the game genuinely fun to play. A blend of brawler and roguelike genre is specifically designed for the play to be addictive and pleasantly surprising in every battle.
◆Battle Against Friends & Foes
PvP is at the core of Golden Bros. Share victory with your Bros in quick and explosive battles to claim in-game rewards. The competitive essence will motivate you and your team to fight together to seize victory. Every battle will have new challenges, so it's imperative to adapt fast and build your own strategy to blindside your opponents.
◆Make it to the TOP Rank
Higher ranks yield more rewards. Keep challenging yourself & push the limits! Be a disruptive Bro on the battlefield and you will be substantially rewarded for your accomplishments! Developing powerful attack and defensive strategies will help you climb the ranks, leading to a greater chance of unlocking rewards!
◆Explosive Battles & Strategic Skill Combinations
Bros will randomly acquire Capsule Abilities during battle. Adapt quickly by using these Capsule Abilities, which allow Bros to strategically select and build Power-Up configurations on the path to victory. To become the top Bro, you will need to adopt diverse tactics to outwit and defeat opponents.
Are you ready to be a Gloden Bro? Be one of the first to join our AAA PVP Battle Royale!
※This app offers in-app purchases. You can disable this feature by adjusting your device's settings.
※By downloading this game, you are agreeing to our Terms of Service and Privacy Policy.
-Terms of Service: https://help.netmarble.com/terms/terms_of_service_en_p
-Privacy Policy: https://help.netmarble.com/terms/privacy_policy_p_en
Loading...