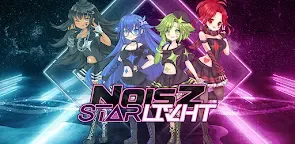 NOISZ STARLIVHT
NOISZ STARLIVHT
Developer: Anarch Entertainment
NOISZ STARLIVHT is a rhythm game developed by Anarch Entertainment.

Become the new #1 hit idol group, battle interdimensional music monsters, rebel against your corporate overlords, wield a mighty soul-devouring experimental weapon, and be unstoppably, unapologetically gay in this standalone sequel to the 2018 rhythm bullet hell VN, NOISZ.
Features:
• Rhythm bullet hell gameplay unlike anything you've played: freely move in 2D to dodge bullets while hitting notes
• An expanding songlist with 20 stages at launch, packed with famed rhythm game artists
• 4 difficulty levels to accomodate beginners and veterans alike, as well as both phone and tablet players
• A massive story in visual novel format with Live2D animated characters, featuring a diverse LGBTQ cast, written by an LGBTQ team
• Deep character customization options unprecedented in rhythm games
• All story content playable for free, with upfront pricing for additional features and content--no gacha or hidden costs
Loading...