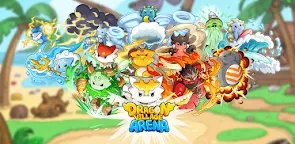 Dragon Village Arena
Dragon Village Arena
Developer: highbrow
More from the same developer More
Dragon Village

Dragon Village

Dragon Village Merge RPG

Dragon Village Merge RPG

Raising Witch

Raising Witch

Pangea

Pangea
Dragon Village Arena is an idle game developed by highbrow.

▶ Easily enjoyed anytime, anywhere!
In the subway, at work, at home, even in the bathroom (?), you can earn rewards just by investing for just one minute!
Enjoy the most rewarding experience in the least amount of time!
▶ Cultivate dozens of different types of dragons!
Cute and diverse dragons you've never seen before are waiting for you!
Cultivate your dragon to become the best tamer!
▶ Enjoy various contents!
Dragon collection, battle, training, event dungeon, PVP through the Colosseum, level sharing system, etc.
Various contents are waiting for Tamer!
Will you come over to play?
Loading...