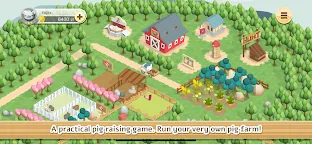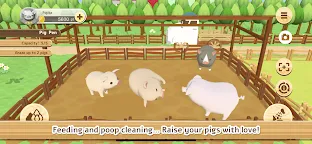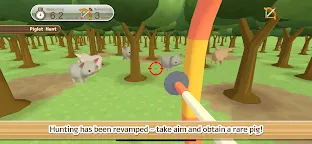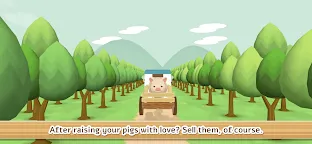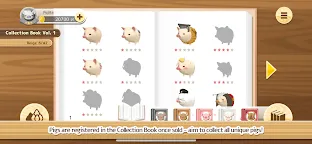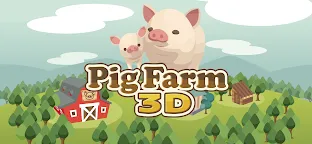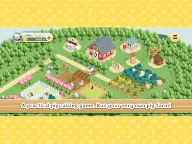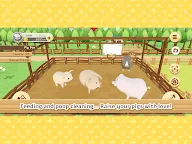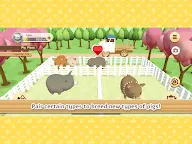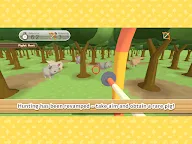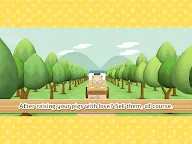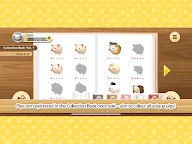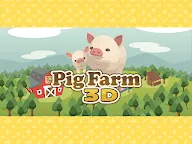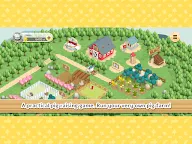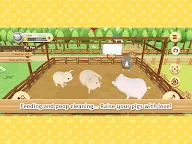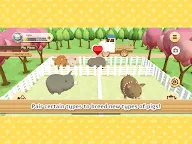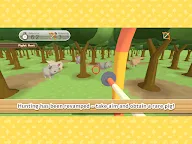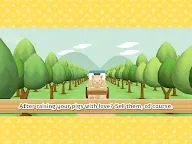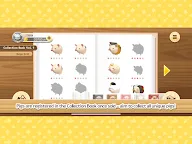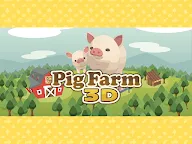 Pig Farm 3D | English
Pig Farm 3D
Developer: JOE,Inc
☞ Other Version(s): Japanese
Pig Farm 3D is a simulation game developed by JOE,Inc.
【About the Game】
Pig Farm has been hugely revamped! Now in full 3D graphics and with additional features, it's back as Pig Farm 3D. The once 2D farm has now become 3D.
It's like the adorable pigs have been brought to life, now that they're all 3D! Their round bellies and bottoms are as adorable as ever. Maybe it's going to be even harder to part with your pigs...
Expand areas of your farm, grow crops to feed your pigs... The farm is also more realistic, now that it's 3D!
You're the owner of the farm in Pig Farm 3D, and your aim is to raise lots of different pigs.
There are over 168 breeds, which are all cute and unique. The pairing system which was popular in the previous series is also back! Maybe you'll be able to obtain a rare type of pig through breeding?
You can also rent other owner's pigs or have other owners rent your pig. You can also put up your piglet for auction and bid for piglets you want! Cooperate with other owners to enjoy Pig Farm 3D even more.
Raise your pigs with lots of love and food!
But as they say, all good things come to an end...
Ship your pigs for money when they're mature.
If you think about it - they're just pigs, after all.
The world of Pig Farm is back as Pig Farm 3D, only with more to enjoy. If you've played the series before, you've definitely got to play this one too! If you've never played the series before, there's so much in store for you!
Pig Farm 3D is free to download. It's a pig raising game that anyone can enjoy - go ahead and set up your farm now!
▼Get rare pigs by ranking up:
Your Owner Rank will go up by shipping pigs. You can only get more common pig types at the start of the game, but you'll be able to get rare pigs as your rank goes up! Rarer pigs are harder to raise successfully, but they can then be shipped for high prices. Ship heaps of pigs and rank up!
▼Produce new types of pigs!
Pair male and female pigs and produce a new type of piglet by breeding! Check what type of piglet will be born easily. Breed pigs that you raise - there are supposedly some pig types which can only be obtained through breeding.
▼The thrilling "Piglet Hunt"!
Have a shot at the Piglet Hunt with a Hunt Ticket. Get new types of pigs through hunts for piglets, using a bow and arrow (with a suction cup attached)! Some pigs can only be obtained through hunts. Further, use a Rare Hunt Ticket to hunt for only rare pigs!
▼Pigs can be demanding:
There are 8 types of feed. Some pigs are picky eaters, and some will only eat the most expensive feed... If you don't feed your pigs as required, rare pigs will end up becoming hybrids, so make sure to look after them well! You can now grow seeds to save costs on feed!
▼Cleaning is key:
Cleaning poop is an important part of a pig farmer's job. If you leave poop lying around, your pigs will become sick! Clean the pen often so your pigs don't get sick.
▼Heaps of items to help you:
The "Poomba" which automatically cleans poop, Air Conditioning which helps prevent your pigs from getting sick, Female Pig Flooring to reduce time for a baby piglet to be born, a Slowing Snail to slow down piglets in hunts... And many more! The more you progress in the game, the more items you'll be able to select from to help you become a great pig farm owner!
▼Collection Book:
Pigs you raise are recorded in your Collection Book. You can see the details of the pig, such as its characteristics and raising requirements. There are 6 volumes in total for each color type. Also check out the Breeding Chart in the Collection Book, which is sure to come in handy when breeding. Will you be able to complete all pages?
▼Compete against other owners!
You can compete against other Pig Farm owners around the world. Who's made the most money? Who's sold the most pigs? Who's best at raising pigs? Check out the rankings, and aim for the top!
Loading...