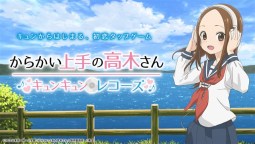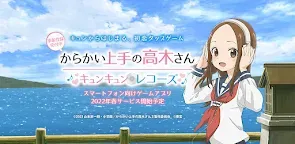 Teasing Master Takagi-san: Kyunkyun Records
Teasing Master Takagi-san: Kyunkyun Records
Developer: TOHO Games
[The game server will be shut down on 31 Mar 2023. ]

Teasing Master Takagi-san: Kyunkyun Records is a romance simulation game developed by TOHO Games for mobile.
Teasing Master Takagi-san (からかい上手の高木さん) is a popular Japanese anime series based on the manga written and illustrated by Sōichirō Yamamoto. The series depicts the daily life of Takagi, who loves to tease her classmate Nishikata constantly, and Nishikata's failed attempts to get back at her. In North America, Yen Press is releasing the manga in English.
The "first-love tapping game" will feature hit songs from the anime. In the game's original story, Takagi practices with songs after entering the neighborhood association's karaoke tournament. The player taps to send "kyun" (hearts) to cheer on Takagi. In addition to the familiar songs from the anime, the game will offer original tracks. Singer-songwriter Yuiko Ōhara created the anime's opening theme songs, and is now contributing to the game's background music.
2396556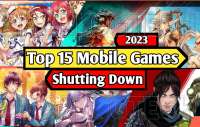 Hello Welcome To The Top Games That Shutdown In Global Server In 2023. Some Most Gaming Company's The Announced Most Popular Games Are Shutdown In 2023.
Read Full Information Here : https://sharkogtech.blogspot.com/2023/02/15-Games-That-Shut-Down-Their-Global-Servers-In-2023.html
ntroduced Top Games List They Are Shutdown In 2023 Games List :

1)Apex Legends Mobile
Loading...