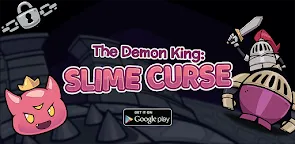 The Demon King: Slime Curse
The Demon King: Slime Curse
Developer: Patriot Games Indonesia
More from the same developer

Virgo and The Sparklings

Virgo and The Sparklings
The Demon King: Slime Curse is a puzzle game developed by Patriot Games Indonesia.

Oh NO! Our Demon King accidental cursed and turned into a Slime Monster.
The Slime is being teleported to a random dungeon and now become the weakest monster here.
Help The Demon King to escape and return to his original form!
The Demon King : Slime Curse is a unique puzzle game with original movement mechanic.
Swipe to move your slime, avoid obstacles and enemies! But beware as you move you will leave some slime behind until you cannot move again.
Plan your moves carefully and escape the dungeon...
FEATURES:
• Original movement mechanic create interesting puzzle
• 100 Stage Puzzle! to complete
• Various dangerous obstacle
• Various Enemy and hero to avoid
• Unique, light and comedic Story
• Cute Slime
Available in English, Indonesian, Japanese, Spanish!
For our Global players
Please Rate and write a review to support us!
Loading...