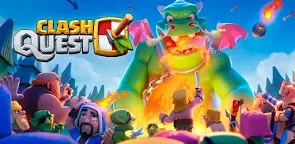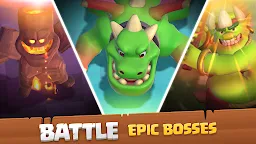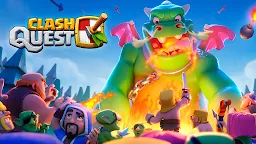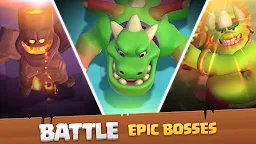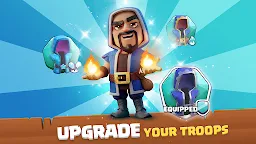 Clash Quest
Developer: Supercell
Enter Clash Quest, a turn-based battle game made by the creators of Clash of Clans and Clash Royale!

Battle bosses in epic puzzle matches to progress across a chain of undiscovered islands with our shipwrecked heroes. Group and match your troops on the battlefield to smash defenses and defeat legendary bosses from the Clash universe. Unleash iconic spells like the Log and Fireball!

Strategy is key in beating bosses big and small. Can you defeat the likes of bosses like Papa Dragon along the way? Join forces with the rest of your crew and progress together as you crush your enemies! Every win is a win for you and your crew.

Battle at your own pace, make strategic decisions, and choose your combinations carefully to set up for satisfying wins. Avoid fire from cannons, X-Bow, and Inferno Towers. Light it up with wizards, charge with baby dragons, and blitz with barbarians. Collect rare loot and upgrade your team with epic gear to unlock more abilities!

Match, charge, and crash into victory!

Features:

Strategy and Puzzle Solving
• Unleash powerful attacks when you match more troops, but be careful you don't run out!
• Turn based gameplay lets you strategize and plan ahead to create effective combos to attack
• Use spells like Fireball, Swap, Charge, and Log to tilt the odds of victory in your favor

Equip and Upgrade
• Collect and upgrade your favorite Troops and Spells
• Discover and equip powerful items to power-up your abilities, upgrade your firepower

Team Up for Battle
• Join a crew or form your own with other players online
• Strategize each big battle. Draw your strengths together in every fight
• Plan ahead and chat with other crew mates to lay out the greatest attacks
• Chat, earn loot and progress through the islands together
• Battle and defeat epic bosses together around the globe!

Battle for Glory
• Compete in the Leagues to and to earn more loot!
• Clash your way to the very top of a worldwide leaderboard
• Show off your skills and see if you have what it takes

Familiar Faces, New Clash Tactics
• Deploy troops, tactics, and spells to attack!
• Encounter classic Clash defenses such as Mortar, Inferno Tower, and X-Bow
• Battle newly discovered bosses like the Goblin King, Papa Dragon, Lava Golem, and more!

Loading...