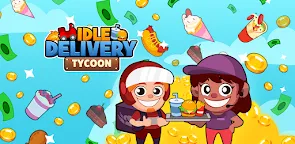 Idle Delivery Tycoon - Merge
Developer: Viva Games Studios
More from the same developer

Ninja Dash Run - Offline Games

Idle Death Tycoon: Money Inc.
Idle Delivery Tycoon - Merge
is a fast food management simulation game developed by Viva Games Studios.
- Expand your Fast-Food tycoon from a single store to become the largest restaurant empire through managing your staffs!
- Merging various type of foods to upgrade your food, or even inventing brand new type of food!
- Upgrading your inventories and bikes to earn more through enhancing your delivery system!
Loading...