Killing Kiss : BL story game
Developer: StoryTaco.inc
Killing Kiss is a BL simulation game developed by StoryTaco.inc. Players need to make choices in the game that affect the flow of the story and the relationships with different attractive male characters.

Kill him? or Kiss him!
Killing Kiss, the Boys' Love genre interactive otome game with romantic simulations, is now ★open for play★!
Make your choices and get your own Endings!
▶ About the game
Killing Kiss is a visual-novel based romantic simulator game featuring attractive characters and captivating sound effects. Your choices are critical throughout the story when building intimacy with your favorite guy and ultimately surviving the dangerous situations with Mafias.
▶ Story Keypoints
① 25-episode long main story for mature readers!
② interactive chat stories with the four different love interests!
③ high-quality illustrations to portray the romantic mood in places such as the bedroom, party venue, and his place!
▶ Plot
Grey City, sin city and hotbed of dangerous activity.
Ryu, a young pickpocket, stole something he shouldn't have!
"What you took was our lifeline."
Three men appeared before Ryu.
And they try to claim him in their own distinctive ways...
What's more, Ryu's secret childhood friend appears
and the story unfolds for the five boys.
Number One rule in Grey City,
"Survive. At all costs!"
Find out the shocking ending of a dangerous romance thriller
In a way you've never experienced before!
[Device permissions notice]
In order to use all features of the app, the following permissions are required.
[Optional permissions]
- Storage (Images, media, files): For saving the gallery illustrations
[Retracting permissions]
Settings > Apps > (App Name) > Notifications
Webpage: http://lucydream.kr/
Killing Kiss Twitter: https://twitter.com/KillingKiss_BL
Facebook: https://www.facebook.com/lucydreamgames/
Contact: cs@storytaco.com
1415855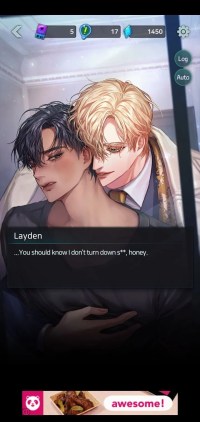 I spent a bit of money for gems
and collected the first 4 pictures in episode 1-4, and it was worth it!
you can clearly see my gems was getting smaller and smaller— Although again it was worth it
, Now im poor i will save slowly again... Thanks for this game!!
Loading...