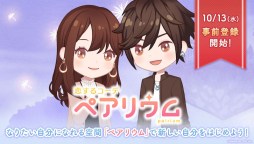 Lovely Coordination Pairium
Lovely Coordination Pairium
Developer: Aiming Inc.
Lovely Coordination Pairium is a social game developed by Aiming Inc.. Pairium is a virtual universe where people can become whatever they imagine. Players can dress up in any kind of style, interact with players around the community or even get married! There is also a little space called "Vignette", where players can express their design talent by decorating the space with different items collected from the game. The game would be a joy to people who love a highly interactive social game.

Release Date: 2021-10-27
Loading...