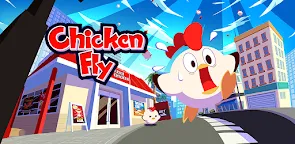 Chicken Fly
Chicken Fly
Developer: Chicken Lab.
Chicken Fly is an action game developed by Chicken Lab..

Your mission is to save chickens which are meant to be fried.
This is a Getaway action game using trampolines and is the first release of a casual game series presented by the Chicken Lab, a team of chicken loving maniacs.
The game is played out at a fried chicken shop.
Chickens are caught up in the shop and planned to flee from the shop to save their lives. You will be a savior of their lives helping them to successfully flee from the shop by drawing trampolines to help them get pass various traps.
■How to play
- Swipe the screen to draw a trampoline to let the chicken bounce up!
- Trampolines are shorter the better; a chicken would bounce higher when it hits the middle of a trampoline.
- There are gimmicks such as fans, cannons, and bombs during the escape. Use or dodge them to fly up high.
- To get a new companion or skin, you can gather coins to open the loot box or collect an egg trapped in a gage.
- When you break the roof of the shop, you complete the stage. Go on to move up to the next stage.
- Gather all the coins and eggs in a stage to make a perfect game. No need to worry about failing. You can keep tying until you succeed.
■You will love this game if you
- are a big fan of action games,
- like playing simple and easy games,
- want to play casual games,
- want to feel refreshed,
- want to break something,
- want to fly away.
- like to collect skins,
- like chickens, or
- do not like chickens but love fried chicken.
■ Message from the Chicken Lab
Chicken Fry is free to download and play.
This is a casual action game.
Write a review to share your thoughts on this game. Every feedback is welcome and helpful for us to release a lot more fun chicken games down the road.
Loading...