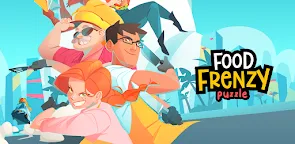 Food Frenzy: Puzzle
Food Frenzy: Puzzle
Developer: Wild Pluto
Food Frenzy: Puzzle is a puzzle game developed by Wild Pluto.

Match and serve delicious food of your own choice! Food Frenzy provides a unique experience for players of all levels. Simple mechanics are combined with the possibility to customise your play-style, giving a new perspective on match-3 games for even veteran players.
Follow the story of two entrepreneurs, Mia and Carter, and shape their legacy with your own choices using dialogue options.
Do your best to serve food to your customers, and be rewarded for your swiftness with the growth of your own food truck! Upgrade it, choose your dishes and ultimate abilities that will help you in your day.
Can you become the very best chef, and prove to the world that you don't have to be rich from the start to impress the entire world and shape its culture?
In-game icons by Icons8
Loading...