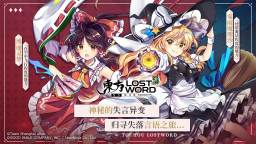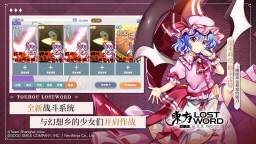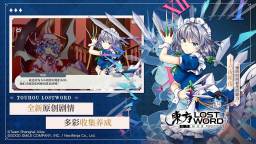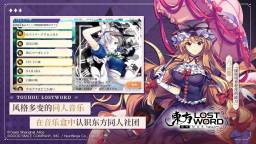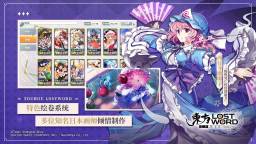 Touhou Lost Word | Simplified Chinese
Touhou Lost Word
Developer: 幻域雲起製作組
☞ Other Version(s): Traditional Chinese | Global | Japanese
◇◆◇About Touhou LostWord◇◆◇
Words are going missing, but nobody knows why... The Lost Word Incident has taken over Gensokyo. Explore Gensokyo to resolve the incident with Reimu, Marisa, and the huge cast from Touhou Project!
Taking place in Gensokyo, Touhou LostWord is a derivative work based on Touhou Project by Team Shanghai Alice.
◇◆◇Characters◇◆◇
Reimu Hakurei:
Also known as Hakurei Shrine Maiden, Eternal Shrine Maiden, Wonderful Shrine Maiden of Paradise.
She is a human who lives at Hakurei Shrine.
Marisa Kirisame:
Also known as Western Magician of the East, Strange Magician, Ordinary Black Magician.
She is a human who lives in the Forest of Magic.
Meet the various characters from the Touhou universe, including Yukari Yakumo, Youmu Konpaku, Alice Margatroid, Reisen Udongein Inaba, Remilia Scarlet, Patchouli Knowledge, Sakuya Izayoi, and many more!
◇◆◇Game System◇◆◇
Use your characters' Spell Cards to fight in exciting battles of bullets!
You can power up your favorite characters and create a party of up to 6.
Choose between 3 voices for every character and dress them up in a variety of different costumes!
◇◆◇Participating Artists◇◆◇
Akitsu Mikami, Arata Toshihira, Capura.L, Eretto, Fruit Punch, Girotin, Hagiwara Rin, Hinayuki Usa, Hiura R, Mikeou, Minamura Haruki, Morinohon, Mottun*, Natsume Eri , Ragho no Erika, Rui Tomono, Sakura Hiyori, Sakuragi Ren, Sakurazawa Idumi, Shinia, Socha, Takehana Note, Tanaka Shoutarou, Tomioka Jiro, Umeckiti, Yamadori Ofuu, Yano Mitsuki, Yumeno Rote, Yuuki Keisuke, and more!
◇◆◇Participating Musicians◇◆◇
AramiTama, Butaotome, Cajiva's Gadget Shop, flap+frog, Foxtail-Grass Studio, Hachimitsu-Lemon, COOL&CREATE, Melodic Taste, O-LIFE.JP Tokyo Active NEETS/Kokyo Active NEETs, and more!
©Team Shanghai Alice
©GOOD SMILE COMPANY, INC. / NextNinja Co., Ltd.
Loading...