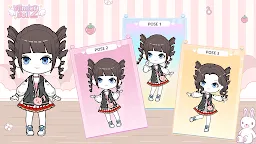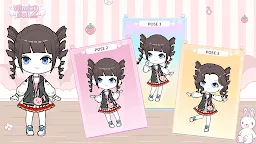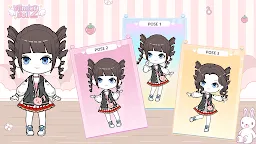 Vlinder Doll 2
Developer: 31 Dress up Games
Vlinder Doll 2 is a casual game developed by 31 Dress up Games.

In Vlinder Doll 2, you can customize your own dolls with different items for hundreds of combinations. Come dress up your dolls as you wish.
✨Vlinder Doll2 is a fashion doll dress-up free offline customize games.
✨Q version of the characters, heart-pounding expressions and dozens of exquisite clothing can be freely matched.
✨You can also make wallpaper images share it with your cute friends 🌻.
🐋Come and let us work together to design a doll . There are so many ways to play, waiting for you to unlock!
🌸🌸🌸🌸
【Game Features】
🎨
All free:
All game content is 100% free.
🎨
Massive collocations:
a lot of colorful clothes, skin tones, hairstyles and hair colors, headdresses, exquisite wings✨, girly heart bags, are all attractive, which will satisfy your cute dressup wishes!
🎨
Charactor games:
A lot of Q version of the character dress up any DIY🍡, as well as your exclusive cute emoticons!
🎨
Exclusive plot:
Write doll dress up creative plot story with elements such as dialogs and text.
🎨
Scene creation:
Be equipped with exquisite background painting style!❤️
🎨
Interactive entertainment:
look at the back, guess the clothes, come and play your dress up observation power!
🐋Come and use your imagination to start action, this is a the dress up girl game that heals the hearts of a billion girls is your exclusive soft cute world.
【Contact Us】
– FB:https://www.facebook.com/groups/668368200546796
– Email:support@31gamestudio.com
– Instagram:Vlinder__life
– TikTok:Vlindergames_TikTok
Loading...