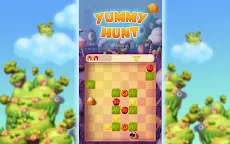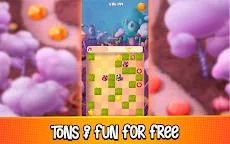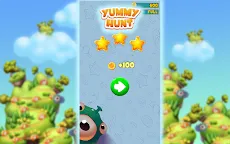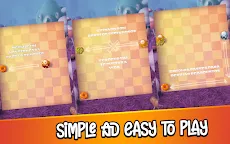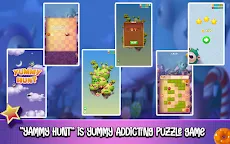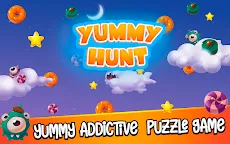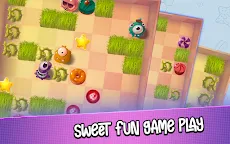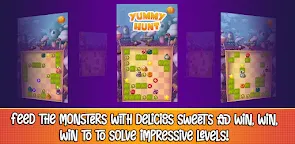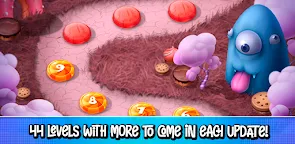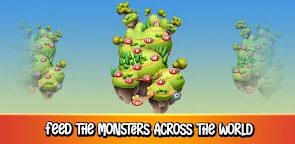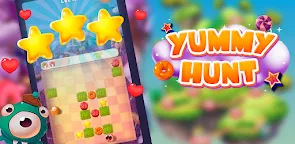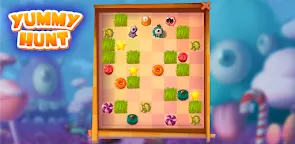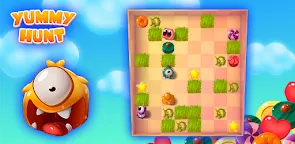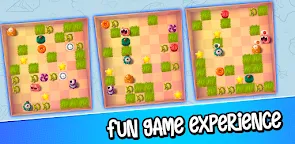 Yummy Hunt – meet the candy lollipop puzzle game.
Yummy Hunt – meet the candy lollipop puzzle game.
Developer: Heron Byte
Yummy Hunt is a cute puzzle game developed by Heron Byte for mobile.
If you think that Yummy hunt is one more common puzzle game, you are absolutely wrong. The smart and at the same time a quite simple interface will help you to leave all routine and feel yourself much better.
Make yourselves comfortable, download Yummy hunt, and let's get it started!
The puzzle games were and will be popular and not only one generation will try to brainstorm.
This adorable creature will steal your heart and of course, really breathtaking levels and puzzles leave no one cold. And you can be sure, you will think about Yummy hunt when you get the chance.
Believe us, Yummy hunt will never be lost on anyone of any age!
You will descend into the infinite candy world. First, you will think that it is so easy but don't jump to a conclusion so fast.
Lots of bonbons will fill your screen, you will be very focused on the new part of your free time but something will prevent you from collecting sweets in a line…Monsters will close the doors on your way and that will only drive you. Defeat them all and you will be the winner!
If you have any doubts, why you have to choose Yummy hunt, here are some reasons why you will never delete this app from your phone:
• Plenty of colorful levels with different intensity challenges.
• Soundtracks that will not poke you in the eye.
• Special effects that are more immediately than in other candy games.
• Discreet gameplay but it will teach you how to achieve professional skills.
• Collect sweets as much as possible but be careful! Monsters never take holidays!
• Think about moves to make as many combinations as possible.
• You are sweet tooth and your heart melts when you see a lollipop.
• Solid offline connection will ensure uninterrupted functioning.
• You will discover lots of strategies to earn points and hear the sound of victory.
Yummy hunt is addictive gameplay where you will complete levels eagerly. These feelings you can't put into words.
Yummy hunt is a kind of puzzle game where you want to seek to further. The more you make significant accomplishments, the more you improve your logical faculty.
Finally, just relaxing and make really strong brainstorm is not a dream.
You have just to download the Yummy hunt game and after the first level, you will try to find more time to feel this candy vibe.
You can ask us about the next step after this candy euphoria, and we have an answer! Your comprehension will not be the same. Yummy hunt is the part of ours life. Yes, yes, it's true!!!
Just draw an analogy: every year of your life is the same as levels in the candyland. And candies are like our sweet life moments. And you have to defeat all monsters that prevent you from getting what you want. Sounds interesting, doesn't it?
Have you ever mentioned that quite big number of users smell fear of not working out? But not in Yummy Hunt! Just believe us, you will be the winner anyway.
It is so important to be satisfied with the game and Yummy hunt will never upset you!
So, you have one more proof that Yummy hunt is not only a game. It is about the philosophy of life.
Yummy hunt is about an easy but very effective mental process. It is about the highly recommended game for everyone.
Lollipop puzzles games continue to feed our eyes with extremely good graphics and various attractive missions. But Yummy hunt exceeds all expectations! Yummy hunt is the best puzzle game that will make your everyday life sweeter and brighter.
If you are ready to join this exciting trip with one of the best puzzle games, just enter Yummy hunt in your search bar and discover your new emotions right now.
Yummy hunt is a kind of unforgettable favorite. You will definitely put its icon not only on your phone screen but also deep in your memory. Welcome to the most useful puzzle world!
Loading...