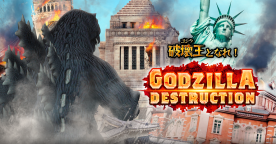 GODZILLA DESTRUCTION
Developer: TOHO CO.,Ltd
[This game is no longer in operation.]
The game server has been shut down on 31 Jan 2022.

GODZILLA DESTRUCTION is an action game developed by TOHO. In this game, players can control the legendary kaiju Godzilla and enjoy the fun of demolishing everything built by human beings.
Become the legendary Godzilla and terrorize all corners of the world!
Crush cities underfoot in this exciting and easy to play game!
Loading...