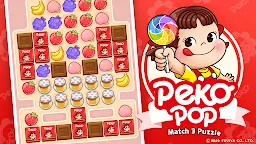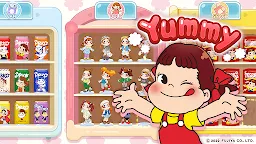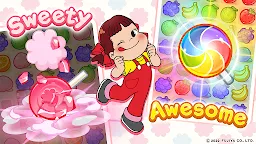 PEKO POP : Match 3 Puzzle
PEKO POP : Match 3 Puzzle
Developer: HIVE Co., Ltd.
More from the same developer

Aggretsuko : the short timer strikes back

Aggretsuko : the short timer strikes back
PEKO POP
is a match 3 puzzle game themed on Peko developed by HIVE Co., Ltd. for mobile.
🍬Milky Candy🍬 Peko is now available as a puzzle game!🍧🍧🍧
Move the sweet juicy fruit blocks
Let's match 3 or more of the same colored fruit🍓🍓🍓!
Different mission is waiting for you at every stage!🍧
Let's clear the stage easily and refreshingly with various items!🍡
If you love Peko or fun puzzle game, you should try it!😋
🍭Game Introduction🍰
-More than 1,200 stages with various missins and items!🍫
-Let's complete missions thrillingly by using items🍦
-Clear the stages and collect puzzle pieces to complete the Peko puzzle!🎂
-When Peko puzzle is completed, Peko collection will appear in the lobby~!🍨✨
-You can play the puzzle anytime and anywhere without worry about data!🙌
🍓Collect puzzle pieces in a 3 blocks match puzzle game
🍒Decorate your own Peko collection!
Loading...