The Promised Neverland: Escape From Hunting Garden
The Promised Neverland: Escape From Hunting Garden
Developer: Cyber​​Agent Inc.
The Promised Neverland: Escape From Hunting Garden is an action escape game based on the famous anime series "The Promised Neverland". The game is available on Android and iOS platforms with Japanese as the supported language.
The gameplay is real-time online escape. The original scenes from GF Farm (Grace Farm) Arc or Golden Pond Arc are reproduced in the game. Players can select their familiar characters such as Emma, Norman, Ray and Phil to battle. Up to 4 players can work together to use various weapons to defeat demons and find the exit.
If you have a favorite character from The Promised Neverland, collecting characters will be one of your goals in this game. Since its launch, the game has successively held different events to let players collect characters with various appearances such as sailor, pirate and swimsuit. There are also game-limited cards such as Baby Isabella, which can be obtained through BOSS raid, seasonal rankings, gacha, etc.
Official website:
https://neverland-anime.com/karineba_game/
Official Twitter:
https://twitter.com/karineba_game
---Below is the information provided by the developer---
The Promised Neverland: Escape From Hunting Garden is an escape game where you have to cooperate with 3 other players to escape from the signature location from "The Promised Neverland" series, such as Grace Field House and Goldy Pond in real-time. Players have to find the exit within 3 minutes, while escaping from the demon's attack.




The game features Emma, Norman, Ray and Phil as playable characters. Players can also use different items and weapons to restrain the demons.




1187427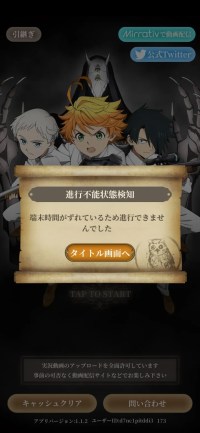 Cant enter the game. My time setting is fine, but still, I cant enter the game after updating.
Loading...