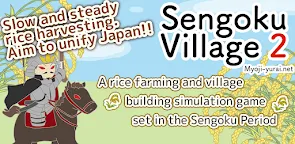 Sengoku Village 2
戦国村を作ろう2 戦国武将と戦い天下統一を目指せ!稲刈り・バトルで城下町育成
Developer: Recstu Inc.
More from the same developer

Let's Build the Genpei Village!
Sengoku Falconry
Sengoku Village 2 is a simulation game developed by Recstu Inc.. In this game, players need to develop a village in the chaotic era of Sengoku in Japan. You are surrounded by Sengoku greats like Nobunaga and Ieyasu, so you need to make your village as strong as possible to compete with them!
Loading...