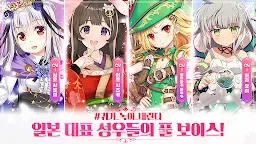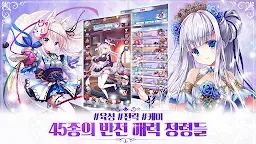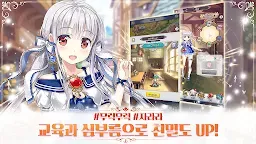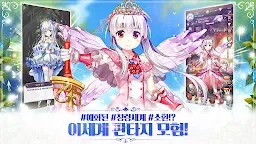 Idle Princess | Korean
Idle Princess
Developer: I&VGames Inc.
[This game is no longer in operation.]
☞ Other Version(s): Japanese | English
Idle Princess is a Live 2D RPG developed by InfrawareJapan, Inc. for mobile. Players turn into a father figure when he travels to another dimension, and he must purify the corrupted fairies and save this magical world!
Do you have what it takes to conquer the anime world of Idle Princess? In this game, you will be able to collect more than 50 princesses, each of them with different skills and playstyle. Fight with them in battles to obtain resources! Make your dream team! You will be able to equip them and level them up to their full potential. Receive rewards while being idle!
♥ Game Features ♥
Meet lovely girls drawn in Spine 2D Animation! No need for multiple accounts! You can freely change between the Warrior, Archer, and Wizard classes! Emotional illustration designed by famous Japanese manga artist Takuya Fujima!
■ More than 50 kinds of beautiful characters ■
Have fun collecting a variety of charming beauty spirits! Training, and evolving your favorite spirits! All spirits can grow up to 7-stars! Something good happens when you help them reach their full potential! Full voice acting by top-tier Japanese voice actors who breathe life into the spirit characters!
■ Casual Idle RPG Mobile Game ■
Everyone can simply and easily play through this perfect idle system! Your spirits grow, even when you're idle! Ultra-simple idle battles that can fight while you relax! Simply set up your deck to enjoy awesome skills and a variety of strategies!
■ Various Game Content ■
"The Knight Order": Go on exciting raids and explore with your guild members. "The Arena": Fight with a party, nurtured with your love, against other users in the arena! "Adventure": Travel through 15 worlds to take on quests and boss challenges. "Party Raid": Cooperate with your friends in real time and collect spirits. "Weekday: Dungeon" A total of 70 dungeons with 10 difficult bosses of each spirit attribute are waiting for you.
■ App Access Permission Guide
[Required Access Permission]
No required access permission
[Optional Access Permission]
SD card read/write, device photos, media, and file access
※ You can use the service, even if you don't agree to grant the optional access permission.
■ Information on Changing Access Permission
- Android 6.0 and above: Settings > Apps or Applications > Select Apps > Change Permissions > Select to accept or refuse.
- The app won't install if your OS is below Android 6.0. Upgrade to version 6.0 or higher, or delete the app when you withdraw your agreement.
Loading...