FIGHTING SOULS
Developer: Rudel inc.
FIGHTING SOULS is an RPG developed by Rudel inc. for mobile. This game is adapted from the popular manga series Hajime no Ippo. In this game, players can enjoy intense boxing battles with different powerful opponents. The only objective in this game is to win every battle and climb to the top!
782264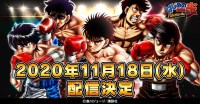 "Hajime no Ippo: Fighting Souls" mobile game will release on November 18! Fight to become the strongest boxer in the world!
https://news.qoo-app.com/en/post/60979

Loading...