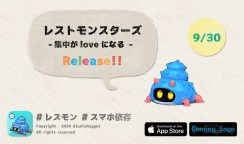 Rest Monsters-Concentration becomes love-
Rest Monsters-Concentration becomes love-
Developer: Takashi Maeda
When you stop using your smartphone, a mysterious creature "anima" grows!
It is a timer app that develops cute characters with your concentration.
● For people like this
"I want to concentrate"
"I want to cherish time with my loved ones"
"I want to have fun eliminating smartphone dependence"
"I want to grow cute creatures"
Have fun and don't touch your smartphone
Why don't you concentrate on what is important to you in your life?
Loading...