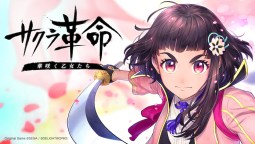 Sakura Kakumei: Hanasaku Otome-tachi
Sakura Kakumei: Hanasaku Otome-tachi
Developer: SEGA
[This game is no longer in operation.]
[The game server will shut down on 20 July 2021.]
Sakura Kakumei: Hanasaku Otome-tachi is a mobile RPG developed by SEGA. This game shares the same worldview with the popular strategy RPG "Sakura Wars".
[Synopsis]
"Sakura Kakumei" is the latest smartphone game of the "Sakura Wars" franchise and is set in a modern day world in 2011.
Japan, which suffered devastating damage in the "Capital Catastrophe" that occurred 16 years ago, has been reconstructed thanks to a new type of energy based on spiritual power, "Mirai."
However, with the activation of the "New Capital Tower," the cherry blossoms no longer bloomed and demons called Kouki started to increase in numbers, attacking people all over the country. During this time, the guardian of the people was a government organization called "Great Imperial Combat Revue B.L.A.C.K." These girls took the country by storm with their awesome live performances while protecting the lives of citizens.
With "Mirai" and B.L.A.C.K., the people thought that placing their trust in the government will bring continued peace. Although a few have realized that this prosperity was a lie. They call themselves "Imperial Combat Revue."
Bring the government's real plan to light, and take back Japan!

[Overview]
"Sakura Kakumei" is a turn-based command RPG, where players play as the commander and lead the girls to win in battles. The girls are differentiated by their range types (direct, shooter, and spot) and unique maidens. Players can also equip Spiricle Amulets to increase stats of the girls.
1476207
#R.I.P. #memorial #U'll_be_missed #acgn_Eulogy
(And a little send-off to the dog you all have killed)
3 games I have reviewed are going to die. In loving memory for the joy they have brought to their fans, I have written them each a eulogy.
860236
#coolabstranslation
(UPDATED: No longer needs a VPN)
(If repost, please refer source back to QooApp at the very least)
(Reroll guide in the end)
All the details in the images, please zoom in for them:
Loading...